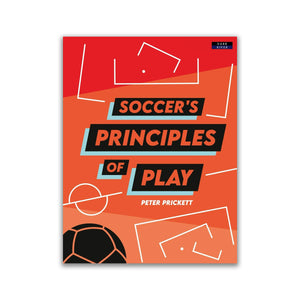 SOCCER'S PRINCIPLES OF PLAY
Regular price 14.00 USD 12.00 USD Sale
BOOK OR BUNDLE
Purchase Peter Prickett's book, Soccer's Principles of Play, on its own or as part of a bundle.
ABOUT SOCCER'S PRINCIPLES OF PLAY BY PETER PRICKETT
It started with a question, "What are the fundamentals of soccer?"
Whilst there are hundreds of books that look into the specific principles of coaches like Jurgen Klopp, Pep Guardiola, and Marco Bielsa, there is no core, distilled text on the key principles of the game.
Until now.
Join best-selling author and coach - Peter Prickett - as he puts soccer under the microscope and breaks it down into its constituent parts. By addressing the two primary phases - in-possession and out-of-possession - the book examines the five attacking and five defending principles, plus the transitions between each phase, to reveal the underlying heart of the beautiful game.
These principles have underpinned coach education for decades and largely been unchallenged. When examining them, other deeper values emerge to support the one true principle - to score.
Designed for coaches and soccer fans interested in the theory of soccer, this handbook is a must-read for anyone looking to understand the foundations that soccer is built on.
ABOUT PETER PRICKETT

Peter Prickett is an FA affiliate tutor with a decade of experience coaching with various organisations. He was one of the first coaches in England to obtain the UEFA B Futsal qualification. Peter is currently studying for a Masters in Performance Football Coaching.
READ AND TAKE NOTES
Pair this book with our
Standard
,
XL
or
Trainer DLX
notebooks and our
4-color pen
so you can take notes while you read.